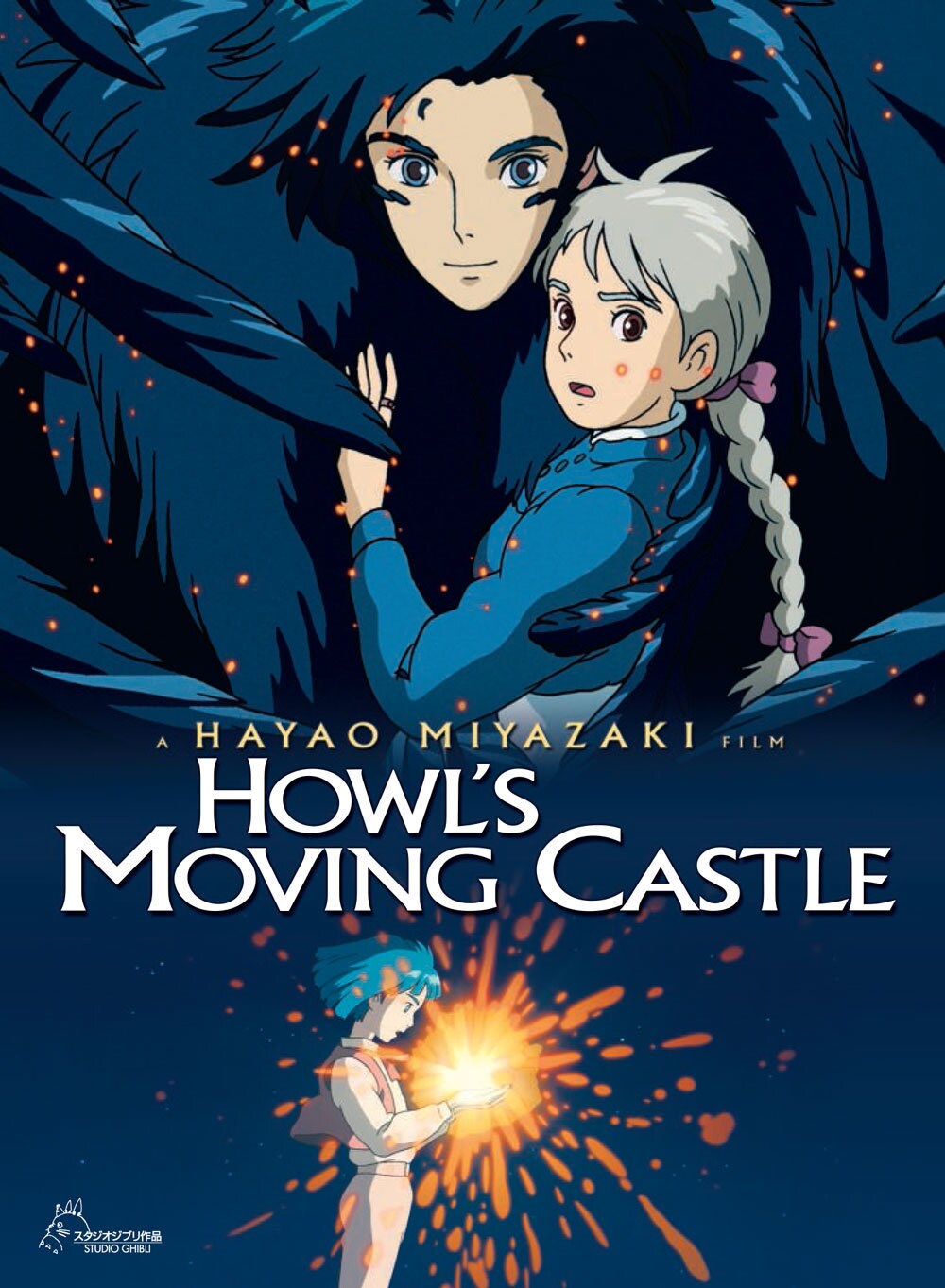 Synopsis
Howls Moving castle is based on a young woman, named Sophie, who is somewhat a social outcast in her local environment but proceeds to have a chance encounter With a touch of cursed Magic setting her on her own adventure. While she is out on her adventure she encounters the charming Howl, a young Wizard which the kingdom holds in high in regards to both his charm and magical talent who lives in his mysterious moving castle, Sophie must find a way to stay close to Howl so that she may be able to find a way to breaking the curse, since she cannot return home she must find a way to survive with her strong mentality and a keen work effort.




Categories
Fantasy
Romance
Action
Super Natural
Animation
What else can I say about the Animation on this particular film created by the masterful Studio Ghibli? Well Like usual their level of detail they capture is simply amazing, each scene in this film looks like an artist had spent a year to construct it so it's impossible to take it for granted. The colours that they use are very vibrant it shows off how well they can create eye candy colours in which you can identify with real life settings, for example, heart warming sunsets, azure blue skies with wisp-like clouds and cool yet perfectly balanced nights. the Animation in this film cannot be taken for granted and cannot be underestimated.


English And Japanese Dubbing
Quality
Boy have I heard horrible dubs, passionless and robotic simply a waste of time, but I am glad to tell you this wasn't a disappointment in terms of voice quality from both the dubs. Each is packed with tear-jerking quality for when the scene needs it to bring you down without even breaking a sweat. The emotion from the voices are simply fantastic they deserve a special congratulations with this prideful performance as I cannot stress enough both were simply splendid, this is why I did not feel the urge to assess the English Dub and the Japanese Dub differently because I feel both sets of voice actor's and actresses have accomplished their goal of putting in their best efforts to achieve something much more than a film, they achieved a masterpiece of a performance.
Summary
This film is definitely among the top of the films that the Studio Ghibli has Directed and Produced, with so many twists, turns, and events, not to mention the crisply detailed scenery including the masterful efforts provided by the Voice actors/actresses, which give you emotions which leave you undoubtedly craving for more.
Thanks for Reading